audio bible
BIBLE AUDIO super production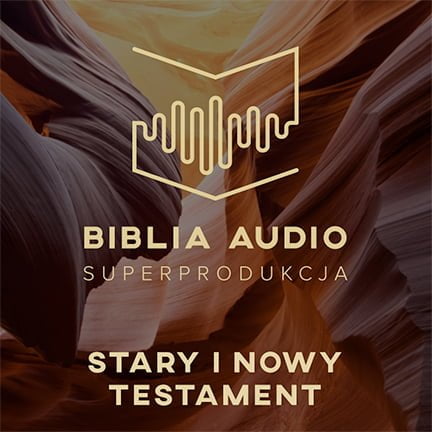 The Audio Superproduction Bible is a full transcript of the Holy Scriptures, Old and New Testaments. It is the largest radio play in Europe. It is a cultural, social, educational and spiritual event. The radio play is characterized by exceptional performance quality, it was recorded by almost 500 actors and actresses, 10,000 extras. It is fully soundtracked, with specially composed symphonic music. Participants in the radio play include: Adam Woronowicz (Jesus Christ), Jan Englert (Moses), Franciszek Pieczka (Abraham), Danuta Stenka (Judith), Jerzy Trela (God), Anna Dymna (Psalm 5),MalgorzataKozuchowskabecame the narrator of theGospel ofSt. John, and Wojciech Malajkat became thenarrator of the Apocalypse of St.John. In addition to professional actors, Amateurs also played the various roles.
The sound backgrounds, whichwere recordedin Israel, make the recipient move to the reality being listened to, and have a chance to feel the Spirit of those places. The production's slogan "Hearwhat you won't read" best reflects the intentions of our work - we wanted the viewer to immerse himself in the stories we listen to.
Music - Adam Walicki.


The Audio Bible is available on CDs and flash drives, in a mobile app and in gift sets. Currently,tens of thousands of people have purchased the production on physical media.
More than 60,000,000 minutes of AUDIO BIBLE-related content have already been listened to on our YouTube channel. We have also produced anAUDIO KIDS BIBLE that lasts almost ten hours, where young actors up to 15 years old are the narrators.
Audio Bible is also available on the mobile app
We encourage you to take a look at our offer!
Also check out the English version of our project: https://audiobiblesuperproduction.com/