Promotion!
Code for Audio Bible app (Lifetime)
Najniższa cena z ostatnich 30 dni: zł99,00

AUDIO BIBLE SUPER PRODUCTION
Wsłuchaj się w 500 głosów, poczuj 3 lata pracy, odkryj na nowo 73 Księgi Pisma Świętego – USŁYSZ, CZEGO NIE PRZECZYTASZ!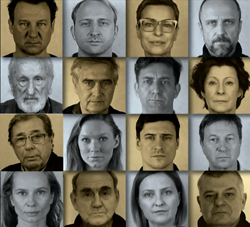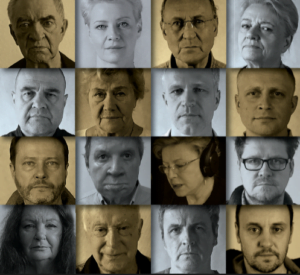 The world's largest Audio Bible with an all-star cast!
Explore Audio Bible super-production of the Old and New Testaments in Polish in the translation of the Bible of the Millennium 5th edition! This is the largest, fully audioradio play in the world! In it you will find all 73 books of the Holy Scriptures, including the Pentateuch, the Book of Moses, the Book of Job, Kohelet, the Psalms, or the Four Gospels, the Apostolic Epistles, or the Apocalypse!
Explore a work that has shaped our culture for hundreds of years, a source of many important thoughts and quotations. Immerse yourself in the rich world of biblical stories, told through the voices of more than 500 actors including Polish stars such as Anna Dymna, Malgorzata Kozuchowska, Artur Zmijewski, Cezary Zak, Franciszek Pieczka, Danuta Stenka, Jan Englert, Jerzy Trela, Piotr Adamczyk, Miłogost Reczek, Kinga Preis, Anna Seniuk, Piotr Polk, Adam Woronowicz, Wojciech Malajkat and many others.
Feel like you're there, thanks to depth and space-giving 3D sound, specially composed music by Adam Walicki and background sounds recorded in the heart of the Holy Land! Are you looking for A Bible with large print, and still find it hard to understand what you are reading? Our audiobook is a great choice for both for people with weaker eyesightas well as those who simply want to learn more about the Scriptures. This Bible illustrated with your imagination!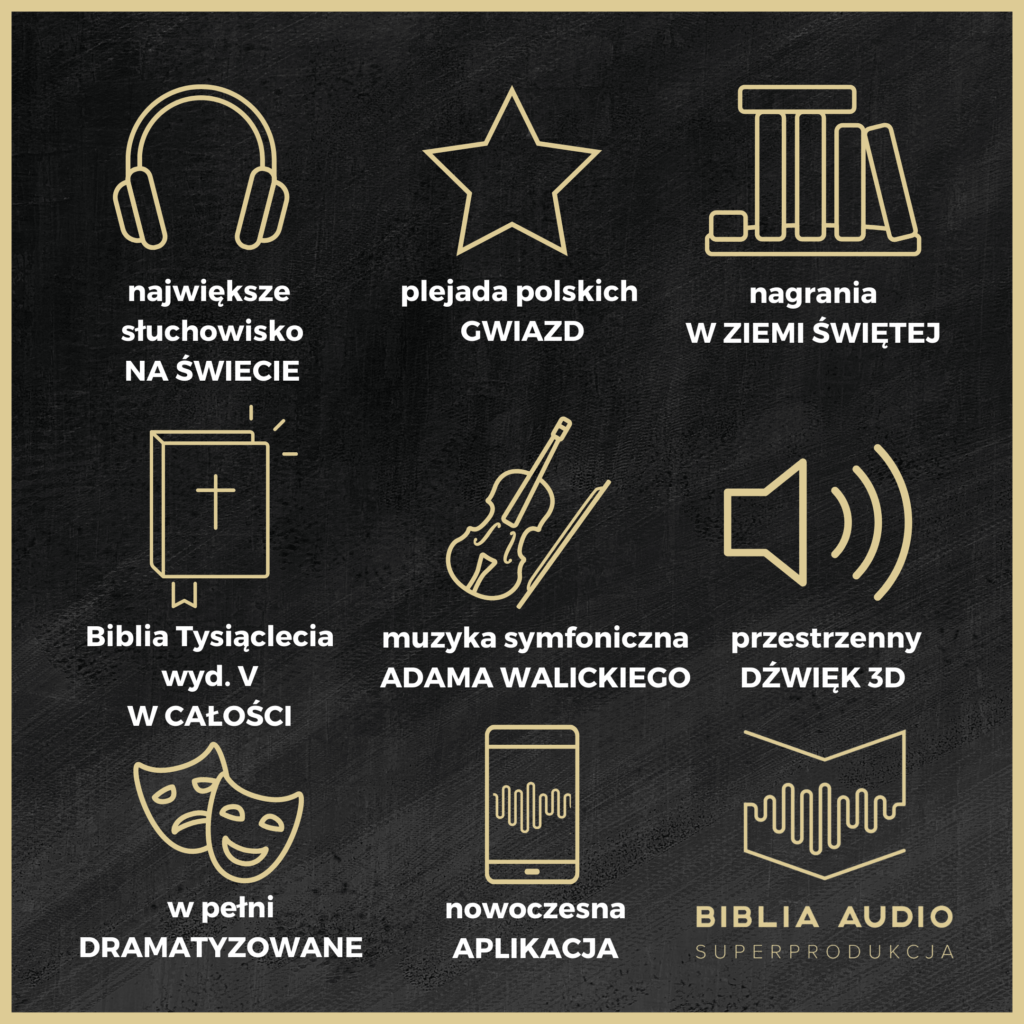 A unique gift of extraordinary value for any occasion!
Bible Audio super production is finally ideal, elegant gift for many occasions!
Gift your loved ones for Christmas or Easter!
Approaching An important Sacrament In the life of your relative or friend? Surprise with a unique gift for a Baptism, Communion, Confirmation or Wedding, or maybe a Wedding Anniversary or Year End!
Don't know what to buy the bride and groom Instead of flowers?
Looking for something for godson or goddaughter, which will finally make the Scriptures not so boring?
Or maybe you want to bestow a priest, a nun or a religious teacher?
Audio Bible Super Production is the perfect answer to all of these needs, for both believers and religious, as well as those seeking, or simply curious about great audio productions!
Lifetime code for content on the Audio Bible mobile app
Explore the unique Audio Bible app for mobile devices:
Listen freely the full audiobook of the Scriptures by selecting any Testament, Book and Chapter.
Download selected recordings for listening offline and enjoy our unique listening experience wherever you are: at home, at work, on the road, on a solitary walk, or at a community meeting.
Bookmark your favorite quotes!
Set the appropriate playback speed!
Recommend the application to your friendssend discounts and share free trial periods.
Would you like to purchase access to the application without adding a payment card on your phone? From now on you can do it in our online store.
Wybierz jedną wersję językową spośród polskiej, angielskiej i hiszpańskiej! Każde wsparcie projektu przybliża nas do kolejnych!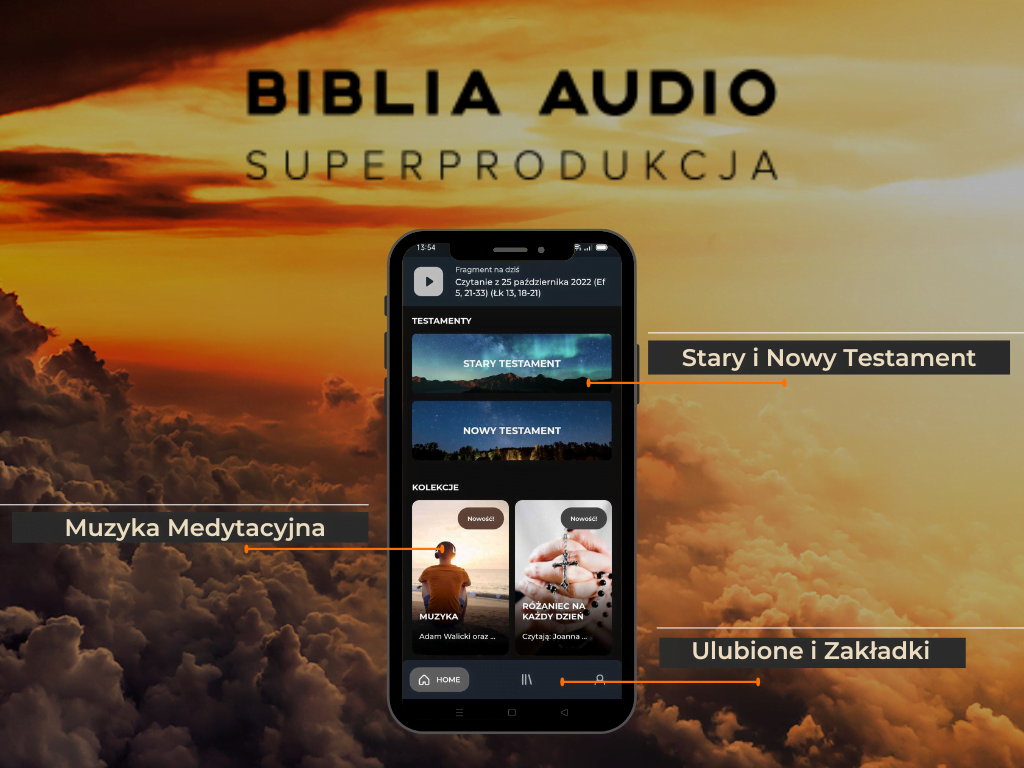 In the Audio Bible mobile app you will find not only the full audiobook of the Holy Scriptures, but also:
Audio KIDS Bible - 150 stories from the biblical world, prepared especially with the youngest listeners in mind! Each story is accompanied by a commentary by biblical scholar Dr. Piotr Kosiak or traveler Jaśek Meliwho make seemingly difficult content, become childishly simple!
A passage for each day, Which will enable you to stay in touch with God's word i discover the message of of the daily readings!
Specially composed meditation musicthanks to which it will be easier to focus on prayer, the next task or simply put you in a good mood good mood!
The most popular prayers, including Rosary with meditations for each day with a female or male voice of your choice. Read by Joanna Kwiatkowska-Zduń i Leszek Zdun.
Explore all the possibilities and features with Scripture always in your pocket!
Listen to how it sounds!
How to activate the code in the Audio Bible app?
IMPORTANT: Buying a digital product means that after the transaction, you will receive a unique code in your email inbox and instructions on how to activate it in the app to get unlimited access to the Audio Bible super production.
Download the app here:
          Android: bit.ly/BAANDROID
          iOS: bit.ly/BAIOS
Register your account with the email address of your choice.
Go to the PROFILE tab, select MY PLAN, and then USE PROMOTIONAL CODE.
Enter the code you received and enjoy access to the world's largest Bible radio play!